Alcohol Inks
There are a growing number of AI brands available now, but I continue to use three. Ranger inks were the inks I started with. They are versatile inks that never disappoint, but gradually I moved to Copic marker refills for a much broader selection of tones. I often use both in a painting. I rarely use Pinata pigments themselves but do use Jacquard Pinata metallics and prefer their white (Blanco Blanco) over Ranger's Snow Cap.
Many of Ranger's new Pearl and Metallics only work well with their particular blending solution, which is quite expensive. While I do use it, as well as the Jacquard Claro Extender, I primarily work with 99.9% isopropyl alcohol and make my own blending solution using alcohol and a little bit of glycerin.
Paper…I started on yupo paper and still go back to it regularly. The heavyweight Legion series is very costly, so I started to experiment with other papers and found Graphix Craft Plastic and Nara Synthetic papers to offer many benefits, including cost. I've been impressed by the lack of or diminished staining on these substrates. Staining is when you put your first drop down on the paper, and no matter how much alcohol you pour over it…the first ink touch does not completely move. Most of the desired fades occur when staining is at a minimum.
While each painting may look uncomplicated, random or 'basic,' the relationship between ink, substrate and intention usually takes a great deal of effort and cost. As with all forms of art, the deepening awareness of technique and creative zest take a long time to percolate and there are many mistakes (or, happy little accidents as Bob Ross would say).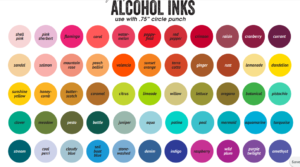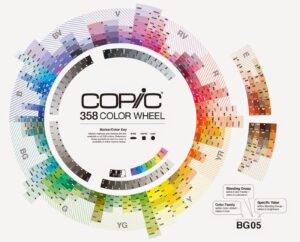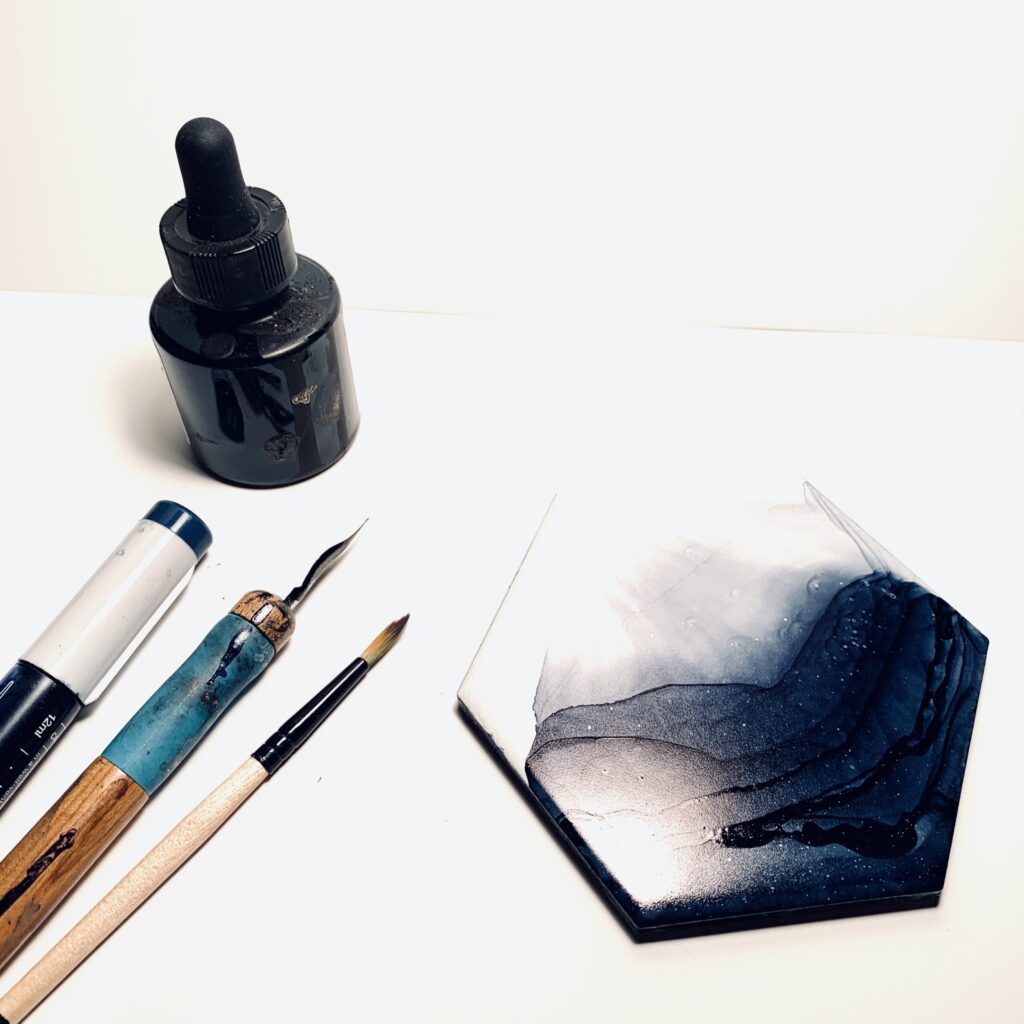 Colour Choices
When you order a custom piece from me, I will ensure that I have the pigments I need to create your palette and show you options for how they blend together before I work on a larger piece. Usually no more than three colours and a metallic or white accent are needed as many of the pigments will separate into their base colours after the alcohol is added to dilute them. For example, Ranger's Slate and Mushroom end up moving into pink and green – as in the image below.